Erhard
Title
Knight
Age
N/a
Height
N/a
Weight
N/a
Gender
Male
Kingdom
N/a
Status
Married, Nemesis
Relatives
Kuno (Son)
Species
Elf, Dark; Light
Aliases
N/a
First Appearance
N/a
Once Erhard sets his mind to something, he goes for it. From helping his family in the kitchen, to becoming a knight, he's still the same easy-going guy he always was.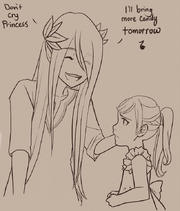 Erhard used to sneak candy to Amika.
Amika used to think Erhard was a girl when she was younger.